Franck Muller Curvex Crazy Hours Jumbo with black dial
Tonneau-shaped watch is also the favorite of people who have a small wrist. Many brand watches released their tonneau watches at the beginning. After introducing so many large-size watches before, today, I will make a review about a tonneau-shaped watch, which is a replica of Franck Muller Curvex Crazy Hours Jumbo.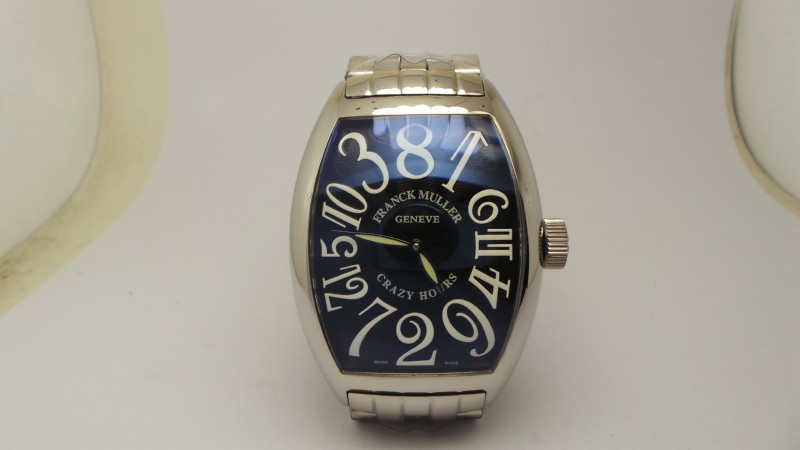 Conforming its reputation of Master of Complications, Franck Muller has produced an extraordinary collection of wristwatches known as Crazy Hours™. This collection is the realization of a completely new approach to the concept of time. Indeed, the Crazy Hours displays the hours on the dial in a completely different order and every 60 minutes let yourself be surprised by the fascinating jumping hour hand. To read the time, simply follow the number that the hour's hand indicates, while the minute's hand follows a traditional 60 minutes cycle.
The case is made of solid stainless steel, it is 40mm in width and 47mm high. Brilliant polished case has an arched design so that it could perfectly fit your wrist and give a great comfort. The case and lugs are integrated into one piece. The crown is on right side and is screwed down, it could be used to adjust hour and minute hands. On the case back, there are correct engravings of "FRANCK MULLER GENEVE" and others. The case back has four screw holes, it is tightly fixed and no gap could be found to let the water penetrate into.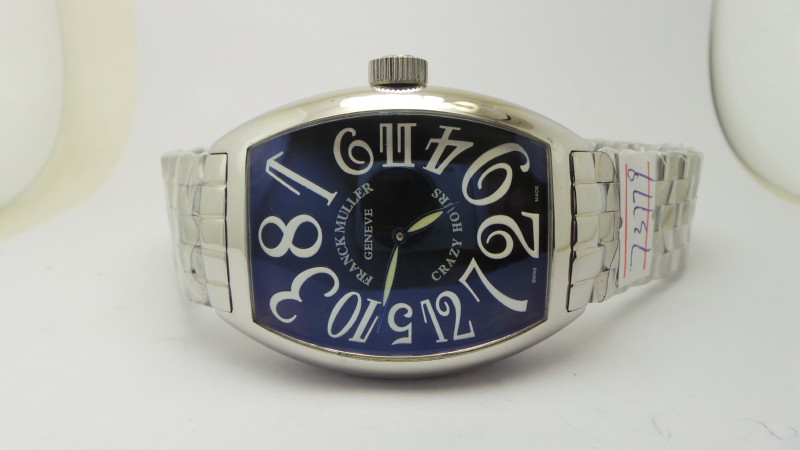 Black dial has exaggerated Rome hour markers in white color. There are leaf-shaped hour and minute hands in the center. Each detail on the dial looks so rounded and smooth like the whole replica watch design. The dial has the iconic Crazy Hours numerals. Hour and minute hands all have blue steel edge, while their central parts are filled with white luminescence.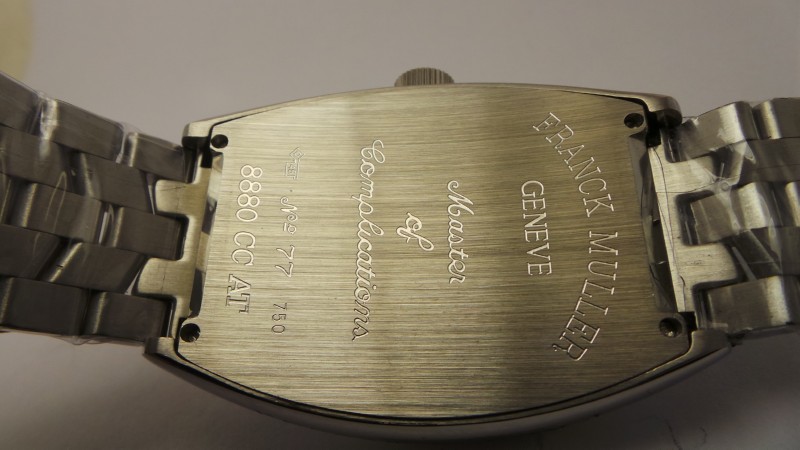 The Franck Muller replica watch is equipped with an Asian automatic movement, which is 21 jeweled, like genuine, it features modified jumping hour function. Besides, this cheap replica that is sold only at $148 has a high end sapphire crystal.